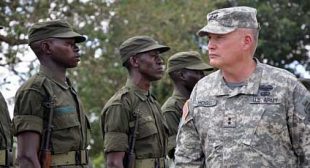 The US military was involved with at least 49 of the 54 nations on the African continent during 2012 and 2013 in activities that ranged from special ops raids to the training of proxy forces.
The numbers tell the story: 10 exercises, 55 operations, 481 security cooperation activities.
For years, the US military has publicly insisted that its efforts in Africa are small scale. Its public affairs personnel and commanders have repeatedly claimed no more than a "light footprint" on that continent, including a remarkably modest presence when it comes to military personnel. They have, however, balked at specifying just what that light footprint actually consists of. During an interview, for instance, a US Africa Command (AFRICOM) spokesman once expressed worry that tabulating the command's deployments would offer a "skewed image" of US efforts there.