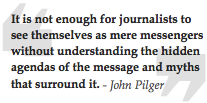 Washington's role in the fascist putsch against an elected government in Ukraine will surprise only those who watch the news and ignore the historical record. Since 1945, dozens of governments, many of them democracies, have met a similar fate, usually with bloodshed.
Nicaragua is one of the poorest countries on earth with fewer people than Wales, yet under the reformist Sandinistas in the 1980s it was regarded in Washington as a "strategic threat". The logic was simple; if the weakest slipped the leash, setting an example, who else would try their luck?
The great game of dominance offers no immunity for even the most loyal US "ally". This is demonstrated by perhaps the least known of Washington's coups – in Australia. The story of this forgotten coup is a salutary lesson for those governments that believe a "Ukraine" or a "Chile" could never happen to them.