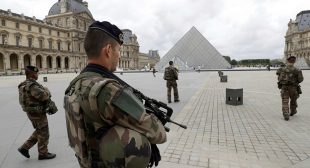 The man had been trying to get into the museum's underground shop with two backpacks.
​The French soldier suffered a minor trauma, whereas the unknown man sustained a severe injury. The identity of the attacker remains unknown.
Shortly after the news emerged, French Interior Ministry posted a message on Twitter: "Serious public security incident under way in Paris in the Louvre area."
Police cordoned off access to the Louvre, Reuters reports.
According to RATP, the public transport operator, the nearby Palais Royal Musee du Louvre metro station was closed to the public as a security measure.