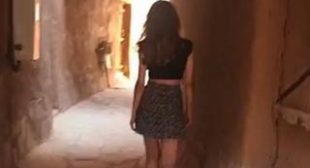 The authorities in Saudi Arabia are investigating a young woman who posted a video of herself wearing a miniskirt and crop-top in public.
The woman, a model called "Khulood", shared the clip of her walking around a historic fort in Ushayqir.
The footage sparked a heated debate on social media, with some calling for her arrest for breaking the conservative Muslim country's strict dress code.
Other Saudis came to the woman's defence, praising her "bravery".
Women in Saudi Arabia must wear loose-fitting, full-length robes known as "abayas" in public, as well as a headscarf if they are Muslim. They are also banned from driving and are separated from unrelated men.