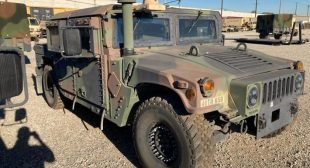 The FBI is asking for the public's help in finding a Humvee stolen Friday morning from the California Army National Guard.
The vehicle is attached to the A Company 40th Brigade Support Battalion, according to information released by authorities. It was stolen from a National Guard armory in Bell, which also houses a recruiting station and is shared by Army, Navy and Marine Corps reserves. The guard and the reserves keep their vehicles in a common motor pool.
Besides being painted in green camouflage, the vehicle had all sorts of official identification, including bumper No. 40BSBHQ6, registration No. NZ311R and a sticker under the right front headlight that reads 40TH BSB.
"We went to the press as quick as we could hoping someone would recognize it," said Laura Eimiller, a representative for the FBI's office in Los Angeles.