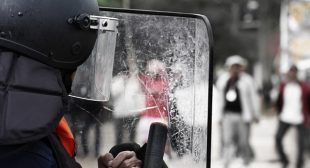 Journalist and professor D. Brian Burghart saw a gaping information hole when he realized no one knows how many civilians are killed by law enforcement every year. So he launched the database Fatal Encounters to keep track.
Aiyana Jones and Eugene Mallory don't appear to have much in common. Jones was 7, a black grade schooler from Detroit with her whole life ahead of her. Mallory was 80, white and, after putting in his dues as an engineer for Lockeed Martin, was well into retirement in a Los Angeles suburb.
What they do have in common is violent, sudden death at the hands of police officers. Aiyana was shot to death during a raid on her home in 2010, and Mallory was shot to death in a raid on his home in 2012. Both were innocent of any crime – and they are far from alone. How far, though, no one knows.