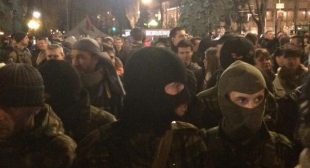 On March 27, Ukraine's interim coalition government announced concrete policy measures as part of its agreement with the IMF: a 50 percent increase of the retail price of gas coupled with the deregulation of the foreign exchange market.
The hike in gas prices is required by the IMF as part of an 18 Billion dollar pledge, which was approved on March 27. The IMF has demanded that retail gas and heating tariffs be raised "to full cost recovery."
It is worth recalling that following the instatement of a coalition government on February 23, the interim (puppet) prime minister Arseny Yatsenyuk casually dismissed the need to negotiate with the IMF.
Yatsenyk intimated that Ukraine will "accept whatever offer the IMF and the EU made" (voice of russia.com March 21, 2014)