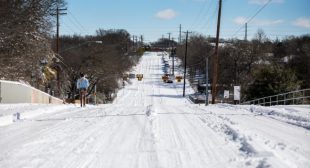 An 11-year-old boy died on Tuesday in an unheated mobile home in Texas that had lost power during a massive winter storm. His family and officials suspect he had hypothermia.
Cristian Pavon was one of at least 30 people in Texas who died this week as temperatures plunged and millions of homes went without power for days, The Washington Post reported.
The boy's mother, Maria Pineda, told Univision that her home in Conroe, near Houston, had lost power over the weekend and that temperatures had dropped into the single digits.