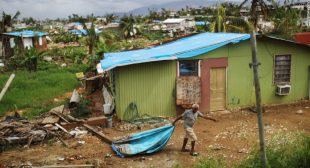 After Hurricane Maria toppled the bridge that connects him to the rest of civilization and ripped the roof and walls off his house here in the central mountains of Puerto Rico, Ramón Sostre raised a weathered American flag above the wreckage.
His message to the world: I'm alive, and I'm American.
It worked, if temporarily. Helicopters came. So did a tarp, food and bottled water.
Yet little else has changed. His roof is still missing, as are some walls. He and his cat, Tipo, sleep in the kitchen. When the wind blows at night, rain soaks them. The power is out, as it is for roughly 3 million Puerto Ricans, or more than 80% of the island's residents. More than a third of households in the US territory, including much of Sostre's community, are without reliable drinking water at home. That's roughly 1 million American citizens.
One month after Hurricane Maria, these realities are starting to feel less like an emergency and more like the new way of life — a nightmarish loop that resets each day the sun rises.
"You wake up and it's this mess as far as the eye can see," Sostre told me.