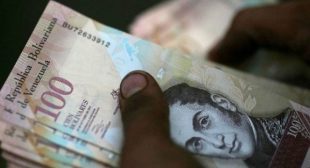 A massive hoard of 50 and 100 Venezuelan bolivar Bills, amounting to 30 tons in weight, was uncovered in a house in Paraguay on the Brazilian border, Associated Press reported Monday.
The massive find is the latest example of the ongoing of hoarding Venezuela's larger notes as part of the so-called currency war. What the government calls "financial mafias" — including organized crime groups, speculators and right-wing business owners — have been speculating and hoarding huge amounts of 100 bolivar bills.
Most commonly, bolivars are hoarded in Colombia as well as Brazil, and the situation has severely affected the value of Venezuela's currency.