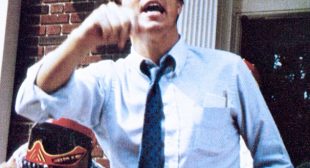 Supreme Court Justice nominee Neil Gorsuch founded and led a student group called the 'Fascism Forever Club' at his elite high school, DailyMail.com can reveal.
The club was set up to rally against the 'left-wing tendencies' of his professors while attending a Jesuit all-boys preparatory high school near Washington D.C.
The name may be inconvenient for a Supreme Court nominee facing a tough confirmation battle. However it also shows the depth of Gorscuch's right-wing credentials – and his penchant for mischief while attending his exclusive prep school in the 1980s.