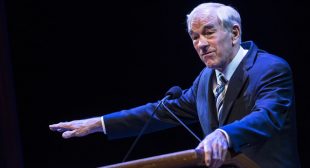 ​In his latest op-ed penned to tackle the crisis in Ukraine, former congressman Ron Paul writes that the United States is destroying democracy overseas by spending billions of dollars to influence change abroad.
The staunch anti-interventionist and longtime member of the US House of Representatives has weighed in regularly about the situation in Ukraine in recent weeks, and just last Monday wrote an editorial published in USA Today advocating for the American government to distance itself from further involvement in the recently passed referendum in Crimea that's considered by the White House to be illegal.
On Sunday this week, Paul again penned a new column, this time condemning the US Department of State's ongoing efforts in Ukraine that are being billed as democracy-building endeavors.