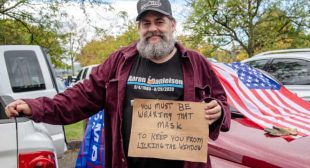 "Kushner's coronavirus team shied away from a national strategy, believing that the virus was hitting Democratic states hardest and that they could blame governors." An administration more committed to saving lives than scoring points could have contained the pandemic rather than made the US the worst-hit nation in the world. Illnesses and casualties could have been far lower, and we could have been better protected against the Delta variant.
At the outset of the pandemic, as Seattle and New York City became hard hit, Republicans apparently imagined that the pandemic would strike Democratic states and cities first, and certainly in 2020 Black, Latinx and indigenous people were disproportionately affected. To put it clearly, Republicans enabled a campaign of mass death and disablement, thinking it would be primarily mean death and illness for those they regarded as opponents.
Nevertheless, Democratic governors, Native nations and people with moderate-to-leftwing views have done a better job of protecting against this scourge. The worst-hit areas in the country are now Republican-led states and regions.