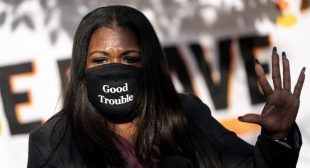 In response to supporters of President Donald Trump storming the U.S. Capitol during a joint congressional session on Wednesday in what many have denounced as a violent terrorist attack and attempted coup, newly sworn-in Rep. Cori Bush announced that her first formal act will target her colleagues who incited the chaos.
The siege of the Capitol came after an inflammatory speech by the president and as over 100 Republicans in Congress were in the process of contesting the Electoral College victory of President-elect Joe Biden, who is set to take office in two weeks. The two chambers had ended the joint session to debate a GOP challenge to Arizona's presidential election results when the pro-Trump mob forced a lockdown.
"My first resolution in Congress will be to call for the expulsion of the Republican members of Congress who incited this domestic terror attack on the Capitol," tweeted Bush, a Black Lives Matter activist and Democrat who took the oath of office to represent Missouri's First Congressional District on Sunday.