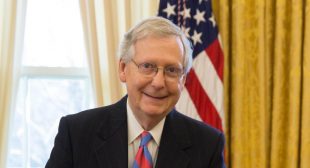 A new report from Roll Call details some of the many challenges facing the Republican Party as it looks to an uncertain future following former President Donald Trump's electoral defeat.
As the party turns its focus to the 2022 midterms, it remains "divided over Trump, their midterm prospects and the state of the GOP itself," Roll Call's Bridget Bowman, Kate Ackley, and Stephanie Akin report.
While some, like Sen. Rick Scott (R-FL), insist the Republican Party is "very unified" when compared with their Democratic counterparts, the reality is that many in the GOP, including Sen. Mitch McConnell (R-KY), are bracing for primary challenges. Some McConnell allies told Roll Call they're anticipating "'a large-scale campaign' to block far-right candidates in primaries."
Trump has already made it clear that he intends to "primary the hell" out of any Republicans who didn't back the president's effort to overturn the election.
"Political disaster doesn't begin to describe how bad this is for Republicans," GOP consultant Alex Conant said.