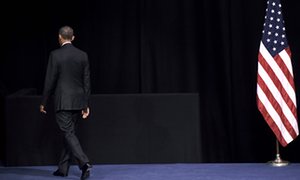 The age of Obama was the last gasp of neoliberalism. Despite some progressive words and symbolic gestures, Obama chose to ignore Wall Street crimes, reject bailouts for homeowners, oversee growing inequality and facilitate war crimes like US drones killing innocent civilians abroad.
Right wing attacks on Obama – and Trump-inspired racist hatred of him – have made it nearly impossible to hear the progressive critiques of Obama. The president has been reluctant to target black suffering – be it in overcrowded prisons, decrepit schools or declining workplaces. Yet, despite that, we get celebrations of the neoliberal status quo couched in racial symbolism and personal legacy. Meanwhile, poor and working class citizens of all colors have continued to suffer in relative silence.
In this sense, Trump's election was enabled by the neoliberal policies of the Clintons and Obama that overlooked the plight of our most vulnerable citizens. The progressive populism of Bernie Sanders nearly toppled the establishment of the Democratic party but Clinton and Obama came to the rescue to preserve the status quo. And I do believe Sanders would have beat Trump to avert this neofascist outcome!