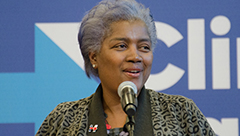 On November 2, Donna Brazile published an excerpt from her upcoming book, "Hacks," in Politico. In the passage, Brazile outlines how she first discovered the joint fundraising agreement between Hillary Clinton's campaign and the DNC that created the Hillary Victory Fund. The agreement is the most overt evidence that the DNC rigged the 2016 Democratic Primaries for Hillary Clinton. Essentially, Brazile claims that the fund was used to launder money to the Clinton Campaign, and in exchange the DNC received help in clearing out its debt. The catch was that former DNC Chair Debbie Wasserman Schultz and the entire apparatus of the DNC was at the control of the Clinton Campaign, serving as an extension of it under the false pretense of neutrality.
"Individuals who had maxed out their $2,700 contribution limit to the campaign could write an additional check for $353,400 to the Hillary Victory Fund—that figure represented $10,000 to each of the thirty-two states' parties who were part of the Victory Fund agreement—$320,000—and $33,400 to the DNC," Brazile writes. "The money would be deposited in the states first, and transferred to the DNC shortly after that. Money in the battleground states usually stayed in that state, but all the other states funneled that money directly to the DNC, which quickly transferred the money to Brooklyn."
This news made it clear why Brazile had to have press releases approved by the Clinton Campaign in Brooklyn before they were sent out. Rather than place much too blame on the Clinton Campaign, Brazile explains that Debbie Wasserman Schultz ran the DNC into the ground, overpaying a large staff, vendors, and consultants while accomplishing little through fundraising.