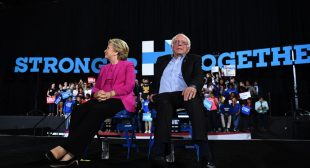 Nobody worried about fake news when it helped Hillary Clinton.
"Democrats would be insane to nominate Bernie Sanders," "Bernie Sanders's fiction-filled campaign," Bernie Bros Made Me Finally Recognize Misogyny in America," "The Bernie Bros are out in full force harassing female reporters," "Bernie Sanders's real problem with black and Hispanic voters," "Hillary Clinton Made History, but Bernie Sanders Stubbornly Ignored It" and "Stop sending around this photo of 'Bernie Sanders' " were just some of the popular fake news headlines published during the Democratic primaries.
The Bernie Bros narrative has been largely debunked as a myth, and Sanders' campaign was whitewashed to silence his diverse supporters. It wasn't fake news outlets driving these narratives, but rather mainstream media outlets.