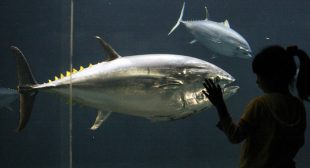 The 2010 BP Deepwater Horizon oil spill have likely inflicted serious heart defects and possibly premature death in tuna and other large marine fish, according to a study initiated by the National Oceanic and Atmospheric Administration (NOAA).
Embryos of three fish – bluefin tuna, yellowfin tuna and an amberjack – have been exposed to the field-collected Deepwater Horizon crude oil samples by a group of scientists led by NOAA.
The newly-hatched fish were chosen for research, as they were believed to be the most affected by the 4 billion gallons of crude, which spilt at the time and at the place of bluefin spawning. Embryos and larvae find themselves closer to the water surface and that's where the spilt oil accumulates.