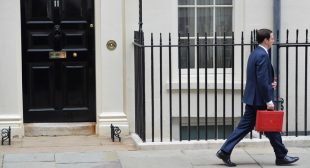 UK Chancellor of the Exchequer George Osborne has confirmed that the Tory-led government's policies to cut public spending are set to continue, but the food banks don't lie.
Prior to delivering his 2014 budget to the country via the chancellor's annual budget speech to parliament earlier this week, Osborne waited patiently while the prime minister and the leader of the opposition entered into the ritual pre-budget speech exchange.
Tributes were paid by both men to former Labour MP and government minister, Tony Benn. Benn, it should be noted, was the most hated man in Britain at one time, reviled by the Tories, the British establishment, and the leadership of his own party. The tributes that have been paid to him in response to his recent death would suggest that the political class in Britain is either suffering collective memory loss or is riddled with rank hypocrisy.